Timofeev Artyom - Iordachescu Viorel
Moscow Open 2008 (Round IV), February 5, 2008


In this game one of the leaders of Russian chess - Artem Timofeev,made I think all the natural moves, won one of Moldavian leaders - a very strong GM Viorel Iordachescu very effective
1.d4 Nf6 2.c4 e6 3.Nc3 Bb4 4.f3 d5 5.a3 Be7 6.e4 0–0 7.e5 Nfd7
[7...Ne8 is more popular]
8.cxd5 Nb6
Logic novelty, after which...I couldn't find any good counterplay for black! [In the not so famous game between Pannello- Kluss there was another move 8...exd5 9.Nxd5 and black was playing without a pawn]
9.Bd3
[Of course, white shouldn't move 9.dxe6?! Bxe6 and black has strong compensation and good perspectives]
9...Nxd5
[9...exd5 10.f4±]
10.Qc2!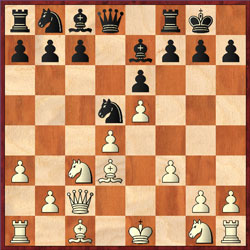 Bh7 is a threaten right now
10...h6
[If black tries to play for an activity after 10...c5 than after 11.Bxh7+ Kh8 12.Nxd5 Qxd5 13.Be4 Qxd4 14.Bf4 white would get strong position(14.f4!?) ; the position arrising after 10...f5 can play only the real mastodons.Maybe this is the correct way to hold the position?]
11.Nxd5!
Simple move, which defines further plans. In a case of ed -white's idea will be standard f4-f5-f6. And in a case of of Qd5 - black has very poor development.
11...exd5 12.f4





12...c5
Absolutely unclear what black can do here. [12...Bg4 13.h3! Bh4+ 14.Kf1 followed by f5; probably it was better to play 12...f5 but in this case white would prepare g2-g4 and break the k-side defense. 13.Nf3±]
13.f5
Absolutely unclear what black can do here.
13...Bg5 14.Nf3 c4 15.Be2 Bxc1 16.Rxc1 Nc6 17.0–0 b5?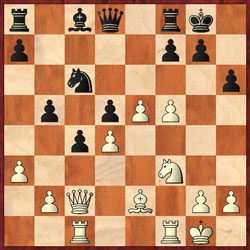 After this move the position is already lost. Black's king is too weak. [The only move was 17...f6!? trying to hold the position 18.e6 b5 and the position is not so easy as it seems]
18.f6! gxf6 19.Qd2 Kg7 20.exf6+ Qxf6 21.Ne5 Qe6 22.Rc3! Nxe5 23.dxe5 Qxe5 24.Re3 Qd6 25.Qd4+ f6 26.Bh5! Kh8
[26...Qb6 27.Qf4 Be6 28.Kh1]
27.Bg6! Qb6 28.Qf4 Kg7 29.Bh5
Black hasn't any defense
29...Be6 30.Kh1! Bf7 31.Rg3+ Kh7 32.Qg4 1–0






Tiviakov Sergei - Iljushin Alexei
Moscow Open 2008 (Round IV), February 5, 2008
1.e4 c5 2.Nf3 Nc6 3.Bb5 g6 4.Bxc6 dxc6 5.d3 Bg7 6.h3 Nh6 7.0–0 b6 8.Re1 0–0 9.a4 a5 10.Na3 f6 11.e5 Nf7 12.exf6 exf6 13.Nc4 b5 14.Ncd2 f5 15.Nb3 g5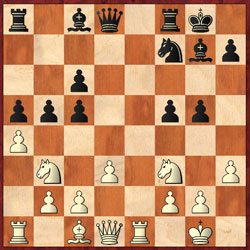 16.Nxc5 Qd5
[16...g4!? 17.hxg4 fxg4 18.Nd2 g3]
17.Nb3 g4 18.Nh2 h5 19.hxg4 hxg4
[19...fxg4!?]
20.Qe2 b4 21.Nf1 Ne5 22.d4 Ba6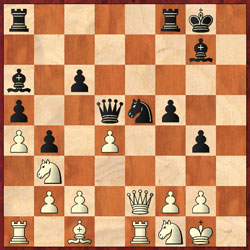 23.Qe3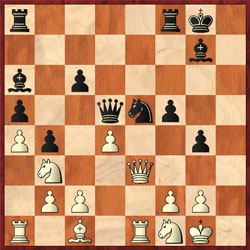 [23.Qxe5!? Bxe5 24.Rxe5 Qf7 25.Bf4]
23...Nf7
[23...Nd3!? 24.Qe6+ Qxe6 25.Rxe6 Bc4 26.Rxc6 Bxb3 27.cxd3 Bxd4]
24.Qe6 Bc4 25.Qxd5 Bxd5 26.Ne3 Bxb3 27.cxb3 Nd6 28.Nc2 f4 29.Re6 Rad8 30.Rg6 g3
[30...c5!?]
31.fxg3 Kh7 32.Rg4 fxg3 33.Rxg3 Nf5 34.Rh3+ Kg6 35.Be3 Rfe8 36.Kh1 Re4 37.Rf1 Rh8 38.Rxh8 Bxh8 39.Rf3 Bxd4 40.Rxf5 Bxe3 41.Nxe3 Rxe3 42.Rxa5 Rxb3= 43.Rc5 Rxb2 44.a5 b3 45.Rxc6+ Kf5 46.a6 Ra2 47.Rb6 b2 48.Kh2 Rxa6 49.Rxb2 Ra3 50.Rb5+ Kg4 51.Rb4+ Kg5 52.Rb8 Rc3 53.Rg8+ Kh4 54.g3+ Kh5 55.Kh3 Rc4 56.g4+ Kh6 57.Kh4 Rc1 58.g5+ ½–½





Savchenko Boris - Miroshnichenko Evgenij
Moscow Open 2008 (Round IV), February 5, 2008


This game can be reccomended for an analyse with a lot of tactical complications
1.e4 c5 2.Nf3 d6 3.d4 cxd4 4.Nxd4 Nf6 5.Nc3 Nc6 6.Bc4 Qb6 7.Nxc6 bxc6 8.0–0 g6 9.Qe1 Qc5 10.b3 Bg7 11.Be3 Qh5 12.Be2 Qa5 13.Rd1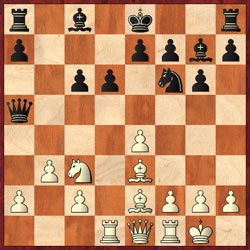 13...Ng4
[13...Nd7!? 14.Bd4 Bxd4 15.Rxd4 g5!?]
14.Bd2 Qc7 15.f3 Nf6 16.f4 0–0 17.Qh4



17...a5 18.Kh1 a4 19.b4 a3 20.f5 d5 21.Bf4 Qb6 22.e5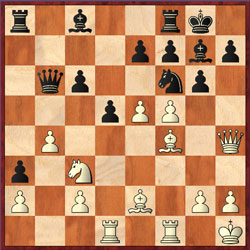 22...Qxb4
[22...Bxf5!? 23.exf6 Bxf6 24.Qe1 d4]
23.Qe1 Qc5 24.fxg6 hxg6 25.exf6± Bxf6 26.Bd2 Bg7 27.Bd3 e5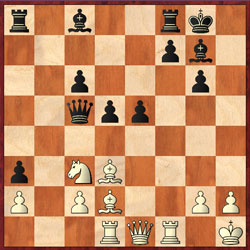 28.Ne4 dxe4 29.Bb4 Qd5
[29...Qxb4!? 30.Qxb4 exd3 31.Rxd3 Be6 32.Rxa3±]
30.Bxe4 Qe6 31.Bxf8 Bxf8 32.Rd8+- Ra4





33.Bxg6! Rf4
[33...Qxg6 34.Rxc8+-]
34.Bd3 1–0





February 6, 2008
Vladimir Dobrov