January 31, 2008
Boris Spassky will be the Chief Arbiter of Moscow Open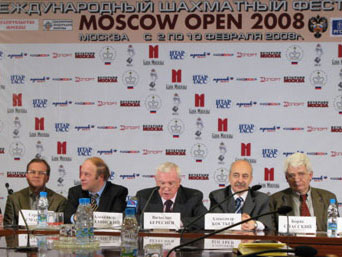 Boris Spassky was presented to journalists as the Chief Arbiter of the festival Moscow Open at the press conference of ITAR-TASS news agency. In this connection ex-world champion even has to postpone celebration of his birthday, which is today – on January 30. Boris Vasilyevich has promised to be a strict arbiter, and punish without remorse for mobile calls during a game. Spasskiy has also pointed out that the women's tournament will take place for the first time as a part of Moscow Open 2008 festival, and it, as the main men's tournament, collects quite a distinguished team of players. Vyacheslav Bersenev, the President of Moscow Chess Federation, has noted that the festival will be a holiday not only for players but for spectators.
They will have a chance to watch the games of famous chess players, listen to the comments of a Grand Master about the most interesting games. They will be able to follow the games in real-time mode and on the Internet using Computers or mobile phones that support GPRS.
The festival that is being carried out for the fourth time will become record in terms of participants' number. About 1200 chess players from 30 countries including over 100 Grand Masters will take part in it. Such a considerable level of the event enabled to include it on the list of the most significant events in Moscow last year.
It is obvious that the festival Moscow open has not hit the wall in its development. It will be developing, and Russian Chess Federation will continue collaborating with organizers of the tournament, assist with its carrying out.
Carrying out of the international festival Moscow Open 2008 can play a significant role regarding a positive decision of the International Olympic Committee about the candidacy of our city to host the first youth games that will take place in summer 2010. It was pointed out by Alexander Polinskiy, the General Director of the Committee of Sports and Entertainment Events of Moscow . We remind you that as of today this honor is being claimed by Singapore alongside with Moscow.
The drawing of lots that took place at the press conference has determined that the chess players that are higher rated will play white in the first round of all four tournaments of the festival.