Evgeniy Najer
"Moscow Open can become the best in the world!"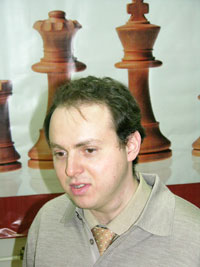 In 2007 Evgenij Najer, a 30-year old Grand Master from Moscow became an unconditional winner of the third tournament Moscow Open. He did not leave any chance to opponents having started to crush them from the very beginning – six out of six! Only an excessive peacefulness at the tape prevented Zhenya from finishing the tournament all by himself. If you remember, in 2006 Najer was also one of the leaders (only a hurtful defeat by Grachev two rounds prior to the end prevented him from struggling for the main prize); he can definitely be considered to be one of the most successful participants of Moscow Open.. In a few days Moscow player will go on his marks for the third time!

– Was a last year victory something special for you?
– Yes, it was a very important event for me. The point is that a month and a half before the tournament I had suffered the greatest defeat in my chess career – it is obvious that those "+6" at Moscow Open could not compensate "-6" which I got in the super final of the Russian Championship but still – as my friends noted after the tournaments – I have got down to business again!
From the chess standpoint, you cannot say that I have showed something extraordinary. I just played well, got points in positions. I am not a novice in the tournaments of such a level as a last year Moscow Open, and took first prizes in them – of course the selection of players this year cannot compare with the last year one – so I didn't have any special emotions about that victory.
– What is the difference for you between Moscow Open and other Swiss tournaments?
– First of all, it takes place in Moscow! This only fact states that the tournament cannot be a weak one even if not many will come from other cities and countries. It is hard to compare it with, for example, Aeroflot Open – it is a closed Swiss tournament for selected players that have to pay entry fees…Moscow Open resembles European Champion much more.
– How do you like the format of the tournament or, rather, their variety?
– I have played many times in American Swiss tournaments, and many of them are run according to a similar system. I have nothing against it, - everybody can choose which is more convenient to play. In my opinion, tomorrow is with such tournaments. The organizers try to do everything quicker.
– You have started the tournament 2006 with rapid chess, in 2007 you already played all nine days..
– I regarded that first tournament more as training before Aeroflot Open. I wanted to save time, and chose a six day variant. But I quickly understood, that my choice was a mistake: having 1, 5 out of 2 in the third round I played Dreev! Later I have entered a big "plus" anyway although I didn't take part in the struggle for the first prize, and I didn't like it.
Last year when I considered Moscow Open a self-contained event, I decided to play in a proper way, all nine days. It enables to get accustomed to struggle because every day you get a stronger opponent. By the way, it is one of my observations from American tournaments: the later you enter the struggle, the less chances you have for a final success. No matter how long you shuffle, nothing will substitute a good tournament regime…
– Why is this system still not so popular in Europe?
– I can explain it only by traditions. The same traditions explain love for such tournaments in the States. We should not forget such an essential factor as a mass : the more players, the more variants of carrying out of a tournament should be.
– How would you evaluate the level of organization of Moscow Open?
– Since I live very close to RSSU I cannot evaluate all the amenities of reception (hotel, meals etc. – I think they are on a very good level). The rest: chess venue, opening and closing ceremonies, especially last year ones, are on the highest level.
– How has the tournament been improved for the last three years?
– The fact that I have found my surname with 2634 the 18th on the list of participants speaks for itself. Probably only those rated over 2700 do not take part in this tournament but all the rest opened this tournament for themselves long ago. I'm surprised that strong foreign chess players that are constant participants of Aeroflot do not play in Moscow Open so far.
In my opinion, if the tendency of development is preserved, and Aeroflot Open does not reconsider the principles of tournament's carrying out, I think outflow of chess players to Moscow Open will be unavoidable. This tournament can offer a reception to strong chess players, there are no fees, and the prizes will be equal soon!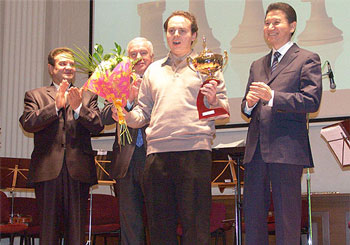 – What prevents Moscow Open from entering a new level?
– It is much of a time question. It is only the 4th time when the tournament is carried out, and it is not so well-known in the West so far, although I think even today it is among the main three open tournaments in the world. I cannot see any obstacles on its way of becoming the best one. For majority of open tournaments one specific formula can be applied when the amount of strong players increases proportionally with the amount of the first prize…
– What would you say if you had to invite chess players to Moscow?
– I would say that it is one of the most large-scale and strongest Swiss tournaments. That is enough!
– Are you planning to take part in this tournament in the future?
– No doubt. It is one of those tournaments together with the Superior Russian League where any self respected chess player should take part. And I am among them.




Evgeniy Atarov